FLORITMIC
®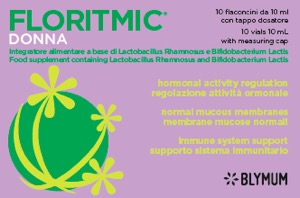 Target
Females

Problem Solving
FLORITMIC® is a food supplement aimed at improving the intestinal flora, and maintaining normal mucous membranes. It regulates also the immune system and the hormonal activity.

Characteristics
FLORITMIC® contains: Lactobacillus Rhamnosus and Bifidobacterium Lactis to ameliorate the equilibrium of the intestinal flora; Vitamin B1 contributes to normal energy-yielding metabolism; Vitamin B2, Vitamin PP, and Vitamin A contribute to the maintenance of normal mucous membranes; Vitamin B6 contributes to the regulation of hormonal activity; Vitamin B12, and Vitamin D contribute to the normal function of the immune system.

Pack
10 mL Rew-CapTM vials

Daily Dose
1 vial
---
POSTS
22/11/2022
Market Surveillance of Medical Devices
All manufacturers of medical devices (MDs) must minimize the risk posed by their MDs and ensure patient safety. Post-market surveillance is thus mandatory. According to the new MDR...
read more
15/11/2022
WOMEN WELLBEING COACHING
We are concerned with health and well-being of women since many years.
In 2014 we launched our Project Lilla Line, focused on the female wellness and health through the physiol...
read more