FLORITMIC
®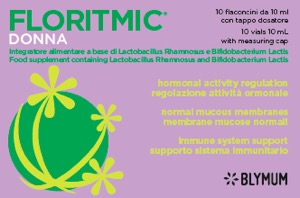 Target
Females

Problem Solving
FLORITMIC® is a food supplement aimed at improving the intestinal flora, and maintaining normal mucous membranes. It regulates also the immune system and the hormonal activity.

Characteristics
FLORITMIC® contains: Lactobacillus Rhamnosus and Bifidobacterium Lactis to ameliorate the equilibrium of the intestinal flora; Vitamin B1 contributes to normal energy-yielding metabolism; Vitamin B2, Vitamin PP, and Vitamin A contribute to the maintenance of normal mucous membranes; Vitamin B6 contributes to the regulation of hormonal activity; Vitamin B12, and Vitamin D contribute to the normal function of the immune system.

Pack
10 mL Rew-CapTM vials

Daily Dose
1 vial
---
POSTS
31/01/2023
Regulation (EU) no. 536/2014 on Clinical Trials
After the transition period, from today's date 31 January 2023 all the authorization procedures for clinical trials must compulsorily be requested following the contents of the new...
read more
22/11/2022
Market Surveillance of Medical Devices
All manufacturers of medical devices (MDs) must minimize the risk posed by their MDs and ensure patient safety. Post-market surveillance is thus mandatory. According to the new MDR...
read more